Editor's Note: It is almost the 99th anniversary of the 11th Hour of the 11th Day of the 11th Month , when the guns fell silent. For a while, anyway. We no longer celebrate Armistice Day, but instead, recognize those who have served as Veterans. But Marlow is right. Time to go by the American Legion and get a poppy.
– Vic
Twenty eight years ago when I had occasion to do US Navy business in London England, I was reminded of the losses humanity endured in the War to End All Wars. This reminder came under the guise of the red poppy with most people in the streets, hotels, restaurants and government buildings wearing these little flowers
Fifteen years later this photo arrived in my email inbox: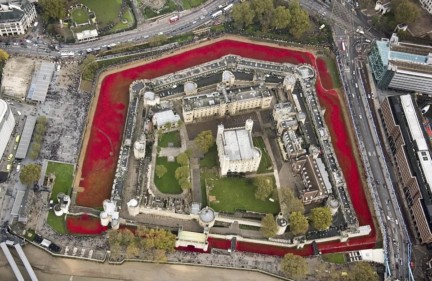 2014 Tower of London poppy display during WW I centennial. Each ceramic poppy set into the moat represents one of the British or colonial soldiers killed in WW I.
These pretty red flowers are poignant, silent clock peals in memory of the unimaginable horror that young Allied boys and men faced in those cold sloppy trenches of Western Europe. Unrelenting artillery shelling. Poisonous gas attacks. Slippery trench walls, barbed wire and withering machine gun fire.
Several years later a former neighbor's grandchild learned of this war's toll. This fourth grader sat through a classmate's presentation on WW1 where the devastatingly high casualty rates for some elite British public school classes were driven home. The presenter passed out a wad of American Legion poppies to the students. There were not enough, so naturally some grumbling ensued from the few who didn't get a poppy. Silence reigned when the flowerless ones were told that they represented the only ones in certain high school classes of 1914 who survived the Great War.
Go to an American Legion post today. Get and wear a poppy. Make a contribution. Proceeds go toward the assistance of disabled and hospitalized veterans in our communities.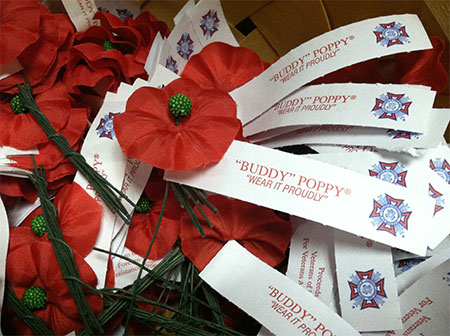 Copyright © 2017 From My Isle Seat
www.vicsocotra.com