Editor's Note: Marlow is a real live human being. Really.
-Vic
Author's Note: This is not something I wanted to share, let alone post, during Holy Week. So, I withheld it for the coming week. True story nonetheless.
– Marlow
Strong Letter To Follow
I found a single day's correspondence I had had with various factotums years ago. I smiled when the details surrounding them became clear.
woke around 10 and went downstairs to fetch the mail
in my old blue bathrobe.
I was hung over
hair looked like confused harbor seas
my scarred bare feet
stiffly teetered down the narrow wooden staircase
to the front door mail box
I scratched my three-day beard
As I bent over
the roofers across the street dropped
a stack of metal tiles
crashing on sidewalk
"BLAM"
Shit fire! it was like being hit in the back
with buck shot
"dammit," I shouted
gathering up a VISA card bill, catalogs,
property tax and gas payment notices,
letters from the probate lawyer and
the divorce attorney
plus an unsigned note that
requested I not furnish evidence next month
I limped back up the narrow stairs
Thinking maybe I'll write them saying
to prepare
for judgement day
is about to close in on them
there's only one way to handle these jerks.
the day's writing would have to wait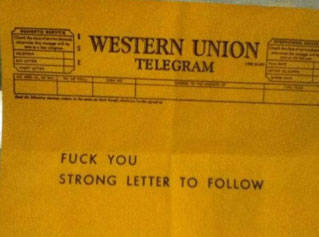 Copyright © 2017 From My Isle Seat
www.vicsocotra.com