Socotra House Publishing: Purveyor of Glib Words to the World
Socotra House Publishing is a small press dedicated to publishing and distributing the historical works of Vic Socotra, a non-mortal fellow who captures American and military history with aplomb.
Life & Island Times: Bats Over Barstow
Editor's Note: God help me, Doctor Hunter S. Thompson, whose earthly remains were recently shot from a cannon at his beloved Owl Creek Farm near Aspen, CO, was one of the formative influences on my professional and artistic life. This is Marlow's take this morning. God help us all.
Bats Over Barstow
America is speeding 100 MPH with the top down somewhere around Barstow on the edge of a vast desert. We are feeling pain, since the drugs have lost their hold on us. Maybe we shouldn't have said to these guys "you should drive . . . " Will there be over the next hill a terrible roar all around us and a sky full of what looks like huge bats?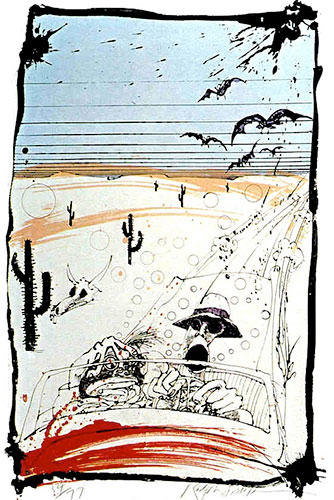 Ralph Steadman's Bats over Barstow for HST's Fear and Loathing in Las Vegas
For decades I thought the 1960s and 1970s were the unsurpassably highest points of American social, cultural and political crazy. During the past ten months have I come to see that we are in a new, more crazy filled time and place than then.
Elements contributing to this growing assessment include a vast cast of unstable, warrior-like personalities/posers inside the nation's capitol beltway political establishments and media, heavy nationwide opiate abuse, an obsession with conflict involving guns and existential nation state violence and, finally, a widespread inability to control one's mouth and twittering fingers sometimes confusing bowels with vowels.
What today's gonzo times need is another HST. Yes, an updated, fully jacked in and up Hunter S Thompson. Our souls are screaming for insights into the 21st century's Hell's Angels and Fear and Loathing in (fill in the blank).
2017 marks the 50th aniversary of the founding of Rolling Stone. HST and Tom Wolfe, were among the RS's lead contributing writers. They captured and made sense of those long ago troubled countercultural times. We need a socially and psychically aware place or space where today's vanities and daily bonfires can be examined, made fun of and thoroughly reconstructed into the writer centric fiction that modern alt news, facts and fantasy pose as reality.
We need some HST honesty. The kind where we admit that we have to be bastards to make things happen today. Being a real son of a bitch when making and implementing decisions in today's real time digital street riot system is at times necessary, but we don't have to be utter assholes. The political and societal end here is to make nice omelets, so cracking a few eggs is of course along the way.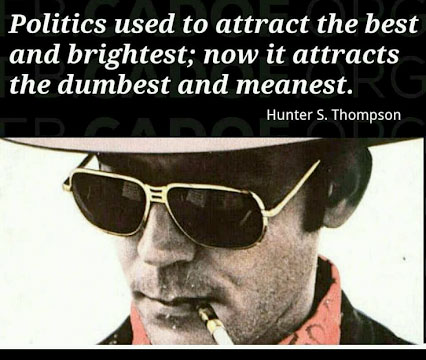 We need some stability and saneness. This daily experimental chaos is hard, irresponsible and out of control.
These basket case times require basket case chroniclers, perhaps ethnographers or anthropologists, who will tell the stories and goings-on across the country inside its cities and tribes which span from the alt-right to the antifa.
Today these events' story pictures, videos and most spectacular components resemble a Hollywood film. They float to the top and are plucked and presented as wholly representative of the facts and their meanings. Rarely are we provided a peek at the bubbling realities beneath the surface.
We need observers who deeply hang out with the subject of their stories — not more of the shallow drive-by coverage of clashes. We need stories that are penned from the inside out.
This requires commitment, time, nuance, immersion and patience regardless of topic. It needs liberal doses of the chronicler's participation and empathy, while shorn of any spectacle fodder.
This is dangerious stuff. HST was scared crapless and brutalized repeatedly while he was deeply embedded within the Hells Angels. He embraced those dangers and folded them into his narrative.
Inside our modern bedlam, there are patterns and possibly some internal logic awating our discovery. We need to see what it's like equally and respectfully for the hunted and hunters in our cities's growing cyberpunk sprawl, wealth and decay. We need clarity into the vast expanse of people who are and who will become technically and economically obsolete.
What results will be in equal parts revealing and downright sobering. After these stories are penned, what must follow for us readers is discussing, deciding, demanding and forcing the change needed to go forward.
Your older type author here suspects that we Americans mostly want to be led and not lead. We almost always hand responsibility for change to somebody else, so we can carry on with our daily lives. So, when it comes to politicians, we the people normally get what we deserve.
Time will tell.
Copyright © 2017 From My Isle Seat/HST
www.vicsocotra.com