Socotra House Publishing: Purveyor of Glib Words to the World
Socotra House Publishing is a small press dedicated to publishing and distributing the historical works of Vic Socotra, a non-mortal fellow who captures American and military history with aplomb.
All Bets Are Off
Editor's Note: We resume the saga of the last cruise of the last battleship of the Imperial Navy this Thanksgiving morning. I am thankful for all things: for friends, for the gift of life, for healthy kids and grandkid, and my best wishes of this most American of holidays to you all!
That said, I am a bit weary of trying to write around what appears to be a world gone mad, and prefer, events permitting, to venture back to earlier times when things appeared to have been settled. There were a lot of people who gave thanks for the speedy end to war, the big one, by whatever means necessary.
Our pal Mac Showers had all the "points" for war service to immediately return to the States with the Magic Carpet that swept east across the Pacific, taking the combat soldiers, Marines, Airmen and sailors home. Instead, he returned to Hawaii, since he had no job back in Iowa, and the taste of the life as an intelligence officer seemed to appeal to him.He was thankful.
Others, like my Dad, were in the pipeline to provide the fodder for the expected fierce battle to conquer the Home Islands. Dad was lucky. He got his Wings of Gold, third to last class of Aviation Officer Cadets to complete the formal course of instruction. He was offered the choice to join the peacetime Fleet, or simply stay in the reserves and go home to New Jersey. He quite sensibly went home, quite thankful.
Others were not so lucky. We return to the story of Edward Smith Gillfillen, Jr., LCDR, USNR, and his narrative of the time he served as the last XO of the Last Battleship of the Imperial Japanese Navy.
-Vic.


(IJN Sakawa, fitting out at Sasebo Naval Base in 1945. She never fought, but served to bring home some of the 3.5 million Japanese troops stranded overseas at the end of hostilities in a great arc from Manchuria to the Solomons, and across the islands of the Central and Southwest Pacific. Photo USN from IJN archives).
Ed continues, setting his drink down on the table between us. "I was part of the technical collection team tasked with examining the war machine we had just defeated…"
Not long after returning from the snow-buried villages of Hokkaido on an inspection tour to collect and assess items of Japanese war technology, I was ordered to the Sakawa, the only remaining Japanese cruiser. She was an Agano-class cruiser, second of her class. Named after a river in Kanagawa Prefecture, she would wind up with us at Bikini. Sakawa had been intended for use as a flagship for a destroyer flotilla, but never saw combat duty, since she was completed at the yard in Sasebo in 1945. She had a graceful and uncluttered deck line with a single stack and had suffered no war damage, so she was a rare pristine example of the Japanese shipbuilding art, at least from a distance.
At the time of her surrender, her guns were removed; later she had made two trips to Wekwak and one to the Palava returning Japanese prisoners to the homeland. When I boarded her with a group of American officers, the Japanese flag was still flying from her masthead, which may have made her the last actual IJN ship afloat. It was a bitter winter day. Sleet and sheets of spray were driven over the bow of the boat. It was painful to look ahead. Sakawa's decks were deserted. We waited a moment, looking for the Officer of the Deck, but seeing no one, we entered the superstructure.
At the top of a ladder, we found a little blue-uniformed Japanese boy who stared at the group of us uniformed Gaijins for a moment and then ducked below. Presently, a middle-aged Japanese in a formal blue uniform with chrysanthemums in his collar appeared and motioned us to descend. He was the Captain. We entered his cabin, an elegantly furnished compartment complete with portholes, a fine mahogany table, upholstered settee and an ornate desk of the type so often seen in the Orient.
Whiskey was served all around as the Captain introduced his senior officers. Then we made a tour of the ship. The decks, navigation spaces, and radio rooms were in perfect order with al fittings and instruments visible and working. Engineering equipment and spaces were modern and well kept up. There was some poor welding in evidence, but that was to be expected in a vessel finished so late in the war.
The living spaces, however, were neither clean or in order. In most of them an extra wooden desk had been inserted, doubling the sleeping space but leaving little head room. The whole ship smelled horrible of human bodies and stale food. On the fantail were wooden troughs for washing and wooden privies that hung out over the water. Such were the necessities of the reparation services. In spite of the smell and improvised nature of the accommodations, there could be no doubt that the Sakawa was a going concern.
I became quite well acquainted with these officers and others, including a rear admiral who helped us on the Nagato. No amount of prejudice could disguise the fact that they were capable professionals would do well in any navy in the world.
At the high levels of the Occupation there were policy debates about what should be done with the captured materiel of the war machine. Clearly, these relics of the Greater East Asia Co-prosperity Sphere would have to go- and perhaps a test of the new Atom Bomb might be the best use for them.
As the largest remaining capital ship, it was decided that Nagato should be manned by a brave band of American volunteers and adventurers who could accommodate the unexpected and unusual with aplomb, and none-the-less completely be completely Navy in terms of the orthodoxy of their views, and more than capable of sustaining any difficulty which might be in the offing. The officers would lead harassed subordinates who cherished the "points" they had accumulated to prioritize their eligibility for demobilization and a trip back to the land of the Big PX.
The sailors were uniformly were tired of the war, the Navy and Japan, in that general order, and their main object was to get home without a nervous breakdown. The problem of building a crew for the last battleship was a challenge. They had to get a list of 189 names from a naval establishment desperately short on men. They would do it in such a way as to minimize contact with angry individuals. By one of those bits of luck (without which nothing works in this man's Navy), we got a handful of petty officers just in from de-commissioned vessels. About a third of the rest came straight from Boot Camp, while the remainder were Shanghaied by levey imposed on the commanding officers of ships currently in the harbor.
It would have been more than human for officers in that position not to send their boat-adjusted men and these skippers were very human. Many whose points would come due in a few months were included. Not one man aboard was a volunteer.
This was an era of corrosive cynicism on the waterfront in Yokosuka. Everyone as concentrating on getting home, and when frustrated on that front, the quest to find their own souvenirs. Any old excuse for disobedience of orders would be accepted by officers, who feared that any official motion they might take might delay their own release to deal with holding mast or bringing a court-marshal.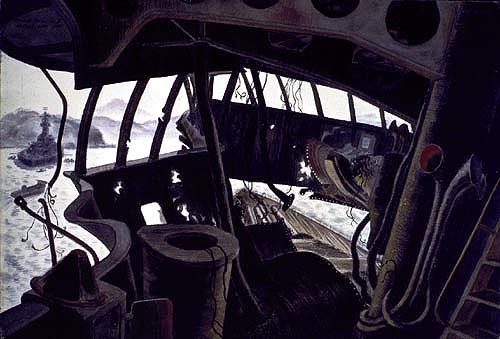 (View from Nagato's damaged Pagoda of USS South Dakota. Watercolor on Scratch Board by Standish Backus; 1945. Image Naval History and Heritage Command).
It was from this atmosphere that men came to the Nagato, a ship stripped by scavengers and herself being the biggest souvenir ever lifted. It is not surprising that all of us considered that all bets were off. Sailors and officers proceeded to adjust themselves pragmatically to conditions as they found them.
Their first impression of the Nagato was not reassuring. Everything but the hull seemed damaged beyond repair. In fact, it was hard not to believe the scuttlebutt that the battleship would never steam again under her own power, and that all this was just another foul-up, and that what they did really did not matter. Before the arrival of responsible officers, they sensed a lack of leadership and lack of plan, and were morally damaged thereby.
Enterprise and ability to adjust to circumstances are American characteristics. These men did not long waste time being sorry for themselves. They found a diesel-electric plant on board. It was intended for emergency use, but they started and ran it until it wore out. Meanwhile they had lights and electric heaters in every room, hotplates on which to cook chow, and so were able to live in comfort. By the time the emergency diesel was burned out, they had a boiler operating on salt water and one of the steam driven electric generators working. The salt water ruined the boiler, but before it was completely gone, they had distilled enough to start another boiler on fresh water, and after that they could make enough fresh water for washing and cooking.
They selected the best staterooms in the ship – those having portholes – scrubbed and painted the walls, arranged places of honor for their precious pin-ups, ransacked the rest of the ship for furniture and found that the rapacious souvenir hunters had overlooked much good stuff including Japanese food.
Soon they were living better than anyone afloat in the bay. They reconstructed the radios left on board and got them working for entertainment and a loose command and control. They rearranged the ship's public address system to pipe music everywhere. All the while, they were exploring the more remote fastness of the ship. The ship-fitters discovered a store of grain alcohol, had it analyzed, found it drinkable. Later I tried hard to find it, but never did. There are some secrets Sailors know to keep to themselves.
There was no need to bother with the formalities of the Plan of the Day, like reveille, Quarters for muster, or liberty lists. Instead, they got up when it felt right, ate and went ashore as they pleased. It was a sailor's dream, clouded only by the thoughts that someday someone might want them to do something.
Let him who rails against the ancient officer's caste-system first live in an unsupervised detachment of enlisted men. He will find out how hard class distinction can really be driven. The crew broke up into little groups of professional people intensely jealous of their prerogatives. The signalmen took over the pagoda and industriously got the Japanese signal lights going. They rigged a flag-bag and signal pennants, and thus got in touch with other similar groups of signalmen all over the harbor.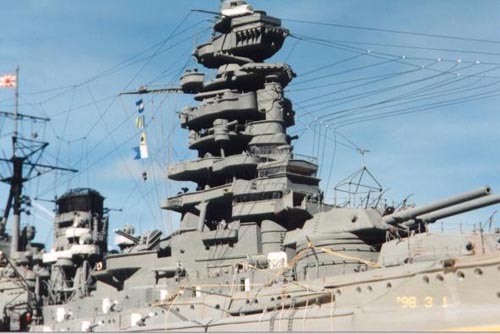 Once established in the larger brotherhood of those who know what is going on, they were able to warn of impending visits by dignitaries and of the birth of policy.
The ship-fitters were a hunter clan – the only ones who knew exactly where all the desirable stores were, and ready to tell the right people for a consideration in kind. Under the spur of private enterprise, they became more thoroughly familiar with the ship than any regular regime could have made them. That intimate knowledge of detailed arrangements was later to save her from sinking.
Under the stimulus of professional rather than material motives, the electricians likewise put forth a mighty effort during those free-and-easy days. They had a sound appreciation of the principles of electricity, but therefore little practical experience. On a proper man-o-war they would have been rewarded for good conduct by being allowed to knock off paint-chipping once in a while to screw in electric light bulbs. In Nagato they could do anything that struck their fancy, and they did.
All conceivable material was there at hand: big generators, wire of all sizes, motors, vacuum tubes, batteries, communication circuits. They could work with thousand amperes or a thousandth of an ampere, as they pleased. Their services were in demand; they could ask and get anything they wanted for rigging hot plates, radios, special telephones, etc. When something went wrong and burned up, as so often happened to the electrical equipment, it was only to be expected in view of the rundown condition of the ship. If a motor went "phut," they knew just where there was another like it.
Giving their imaginations full reign, they produced some weird Rube Goldberg contraptions to make life easier. Experience gained during this period of experimentation paid off later when the electrical system became a menace to the survival of the ship. No one could tell them what to do then, and no one had to. You would see them plodding wearily along the dripping corridors, tired, grey-faced, streaked with dirt, but carrying on whole days without sleep, doing all that would be done.
The ship had had an elaborate communication system; there were several control switchboards and phones hanging on almost every bulkhead in battle clamps from which they could not be dislodged by the shock of gunfire. Whether the electricians ever understood this system completely I did not know, but probably they did. They never put the switchboards into full operation but, grudgingly it seemed, they connected permanently the few lines needed to operate the ship. Phones so activated officially were tagged Most of the untagged phones hanging on the bulk heads were dead, but not all; each clan of enlisted men had its own private system known only to its members. Those were used mostly to prevent narrow-minded individuals from seeing anything that might disturb them.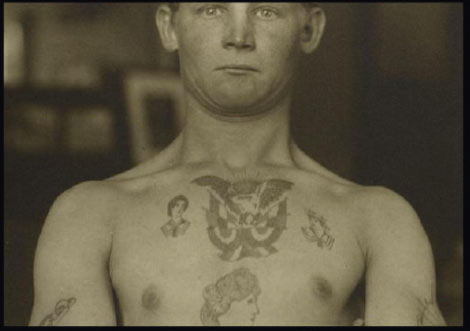 Such was the situation facing Captain Whipple when he took over. Neither the ship nor the crew were ready for sea. The one had to be got in condition mechanically and the other brought to the state of discipline without which any ship is but a floating coffin.
Discipline must be tough with bread in one hand and a stick in the other: privileges to grant and punishment to inflict. Neither was easy. You cannot offer thrills to a man who believes that the great and final adventure of his life will be his return home. You could not offer privileges ashore. The town of Yokosuka and the Honcho-ku ginza outside the gate was so depressing that most men preferred to remain onboard.
The usual Navy punishment for minor offenses is extra duty, but the smallness of this crew and the bulk of the ship made it necessary to demand extra work of everyone. To have used confinement as a punishment would have required setting a guard on this brig – there were just not enough men to do it. The final resort of a bad-conduct discharge would not only lose a irreplaceable man, but is scarcely applicable to youngsters – it is wrong to mark a man for life for a minor indiscretion of youth.
Captain Whipple's status was further complicated by the anomalous status of the ship. Though not a ship of the US Navy, it was flying the Jack forward; aft, she flew the Stars & Stripes without being recognized under them. She had been officially declared not a prize of war, but no one had said just what she was. She was a study in ambiguity. Captain Whipple had been designated commanding officer, but not by the President, whose prerogative that is.
Courageously laying himself open to actions in the civil courts, he decided to assume the disciplinary duties of a regular commanding officer. My own theory was that since the ship was not registered under any flag, she was subject only to the unwritten law of the sea – that her officers were not bound by the troublesome restrictions of Navy Regulations or union contracts, and in fact – but never mind that now.
We were all going to learn a lot on the last cruise of the Nagato.
Copyright 2015 Vic Socotra
www.vicsocotra.com
Twitter: @jayare303