Socotra House Publishing: Purveyor of Glib Words to the World
Socotra House Publishing is a small press dedicated to publishing and distributing the historical works of Vic Socotra, a non-mortal fellow who captures American and military history with aplomb.
Life and Island Times: The End
Exiting Alabama Jack's, they crossed the Card Sound toll bridge and entered the Florida Keys, where the sun shines white all day and the stars shine white all night.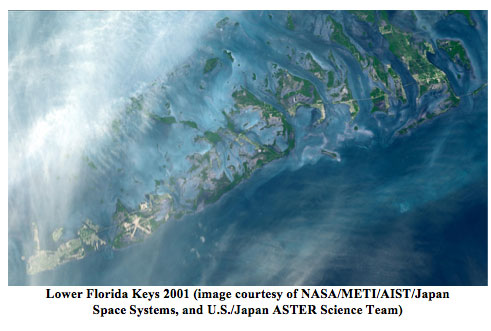 There were only three hours and 116 miles remaining until corner #4. The miles and minutes melted away swiftly as the riders fell into hazy blue Keys moods.
They sighted pelicans, gulls, and other seabirds floating in the salt waters like bits of colored cork, and pieces of seaweed, and at length a school of flying fish leaping in the air like gazelles.
They slowed down and again were treated to another cavalry charge of flying fish. They kept their pace slow until they were sure there wasn't another battalion headed north.
As the sun was dipping close to the horizon on the mile long straightaway of the Bahia Honda Bridge at US 1's Mile Marker 35, they cracked their throttles wide open.
They wound their engines out one last time – perhaps hoping that they would see God. They finally downshifted after passing well beyond 115 MPH.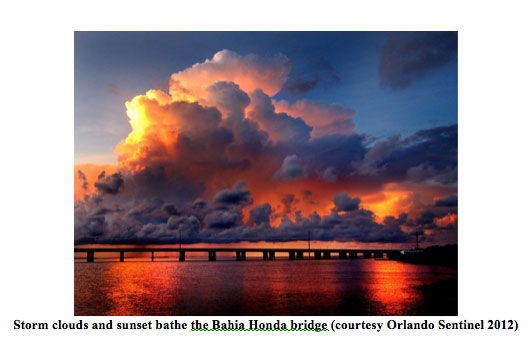 The vast gulf, perfectly still, reflected a single moonbeam as the riders traversed the Overseas Highway bridges toward the fourth and final corner. For the first time in over two fortnights, they felt fulfillment along the tranquility of this gulf that covered the adjacent coral reefs.
Off to the north of a lower Keys bridge, a silvery, white bellied monster fish broached the gulf's surface, briefly hanging almost straight up in the middle of the reflected shaft of moonlight. It, like the riders, was in search of prey.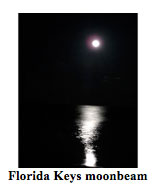 —————–
A dark grey skied afternoon. Three motorcycles were stopped in a torrential rainstorm atop a Keys bridge. The wind speeds were so high that the bridges should have been closed, but the Florida state highway patrol was nowhere to be found. The rainsuited riders were holding onto the bikes with all they had.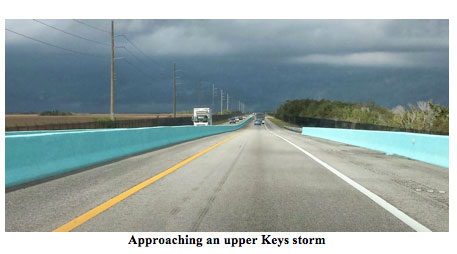 Suddenly the lightening strikes came, so tremendous in their energy that it almost pushed them from their seats; so quick, fierce, bewildering that they could think of nothing but to hold on. Then the rain split with a hiss followed by hoovering sounds, somewhere to their left, was indicative of an approaching, unseen but powerful water spout.
One of them was trying to speak to the others over the howling winds. He had no success, while the other two strained forward over their handlebars to hear what he said. Suddenly, there was a white flash and violent boom.
Marlow threw back the sheets and jerked straight up in his bed, horror struck. He was back in his home.
His wife comforted him, stroking his head and saying "It's alright. Go back to sleep. Shh."
The biker rolled onto his side and fell back asleep immediately, hoping for sweet dreams.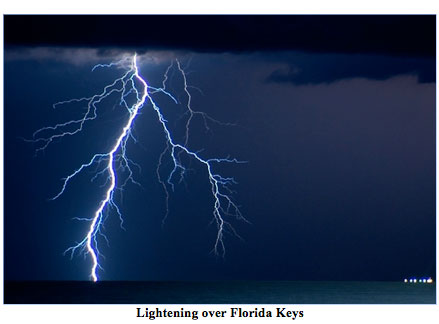 Marlow and his fellow bikers' houses stood peacefully and safely along suburban streets with others like them. Security lights blinked on when critters, big and small, passed through unseen trigger beams. They blinked out one by one after a few seconds passed. The streets were quiet and still, sleeping under moon-beamed skies. Half the driveways had cars drawn up close to closed garage doors.
A turned over bicycle with its rear wheel still spinning layed close to the open side door of one of their garages.
The riders' good and decent neighbors slumbered, dreaming whatever dreams they dream.
Copyright © 2017 From My Isle Seat
www.vicscotra.com