Socotra House Publishing: Purveyor of Glib Words to the World
Socotra House Publishing is a small press dedicated to publishing and distributing the historical works of Vic Socotra, a non-mortal fellow who captures American and military history with aplomb.
Life & Island Times: Sci-Fi Thought Experiment
Editor's Note: I was in Tampa for a conference this week and walked into my hotel room in time to catch the first reports about the Manchester bombing. Like most of us, I do not have a decent answer for what we might do about this scourge of murder and barbarity. Marlow has some thoughts, though, so follow along in this two-part adventure into a Sci-Fi solution….
– Vic
Author's note: This is the first of a two part post that explores the outer limits of what we could do going forward after Manchester.
Sci-Fi Thought Experiment
During the past thirty years or so we've had war, terror attacks, murder, bloodshed – but America won the Cold War, created a world wide web, app'ed up smartphones like Star Trek's tricorders, social networks and a technological age of information and medical miracles. In the Arab middle east, they had trillion dollar petro dollar gushers, and what did that produce? Intifada, Al Qaeda and ISIS.
Now it's nearly summer, and we are sixteen years into a global war on terror. Here in beautiful US of A we are enjoying early release summer movies and beachy weather. And the first million dollar question is: Was this war necessary? Well, let's look at the facts. Nobody wanted this war except for religious extremists. A great many people tried to deal with them before it reached their slaughter of our children, and a fair number of these bad guys are now dead. Hundreds of thousands of innocents have died for no other reason except that the extremists wanted them dead. So, in the final showdown, there was nothing left for us to do except fight.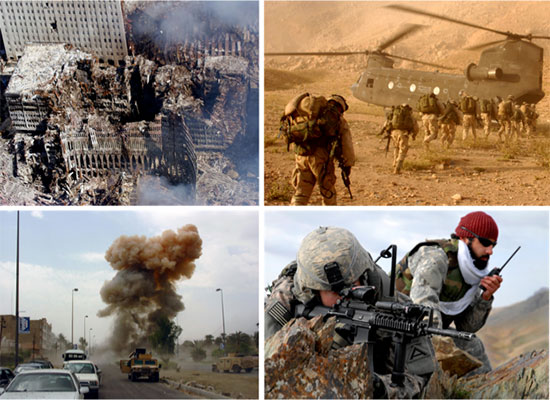 Clockwise from top left: Aftermath of the September 11 attacks; American infantry in Afghanistan; an American soldier and Afghan interpreter in Zabul Province, Afghanistan; explosion of an Iraqi car bomb in Baghdad. (courtesy Wikipedia)
A second and more important million dollar question is whether we should have fought it as we did and continue to do? In a word my answer is no. There's a great lesson in my answer to this question and those of us who've learned it the hard way aren't gonna forget it. One would have thought we'd have learned this after WW II and what lead to it.
We must never again let any force or idea dedicated to an oppressive, super-world government or the triumphal mass slaughter of innocents to become strong enough to impose itself upon a free world. We must be smart enough and ruthless enough at the beginning to extirpate them before they start visiting their violence upon the innocent.
As the years go by, some people seemed to have forgotten the answer to the first question above, but many, if not most, don't want to discuss, let alone entertain answering question number 2 above. So, please forgive me if I speak bluntly above and in the following sci-fi thought experiment.
Our world grows smaller every day, and the perceived threat of extremist terrorism by any group, foreign or domestic, anywhere, is becoming, rightly or wrongly, so severe that it can no longer be tolerated. People are beginning to demand security for all, since the partial measures employed thus far mean that no one is truly secure.
Now, will this need for absolute security mean giving up any freedom? Probably, if security is what is desired. How much is the question.
To start we'd lose the freedom to act irresponsibly. That would include restrictions on speech – oral and written, private as well as public.
To do this we'd have to field a security force to enforce the new rules. That way we 'd have an organization for the mutual protection of all countries, groups, faiths, ethnicities, and peoples to eliminate terrorism. For our policemen, we'd create a race of app'd up investigatory and security robots. They would search private and public domains to preserve the peace.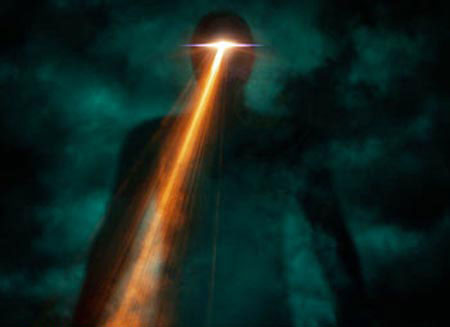 Prototype automated anti-terror police as described above
(courtesy of the 2008 movie The Day the Earth Stood Still)
In matters of aggression to include hostile speech patterns as determined by world class algorithms, we'd give them absolute power over us. This power could not be revoked. At the first sign of aggressive acts, thoughts or speech, they would act automatically against the transgressor. The penalty for provoking their action would be too terrible to risk. The result would be that we'd live in peace, without arms or armies, secure in the knowledge that we would be free from violence and war, free to pursue more profitable and creative enterprises.
Now we should not pretend this solution is perfect, but it'd work, since in reaction to any threat of violence, the aggressor and his surroundings would be be reduced to burned-out cinders. The choice would be simple – live in peace or face obliteration.
This is not a Hobbesian trap. It is preemptive pest control before the vermin become infected/armed with the plague/nukes and kill many more orders of magnitude of us than them.
Or . . .
(to be continued)
Copyright © 2017 From My Isle Seat
www.vicsocotra.com