Tacitus Speaks: What Difference Does it Make?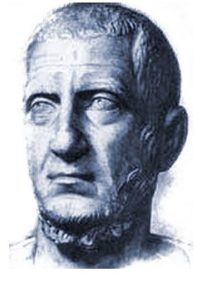 We are witnessing the extraordinarily messy closing weeks of the 2016 presidential campaign. It's not really Clinton versus Trump anymore. It's the leftist media versus the Russians. Mind you, the Trump campaign isn't colluding with the SVR and FSB. It goes without saying that the Clinton campaign and the likes of the Washington Post and New York Times are working closely behind the scenes. They are colluding. I'd like to be surprised but I think the media will win this struggle and drag Hillary across the finish line.
But, at this stage in the game, should Mrs Clinton be on the ballot at all? To answer that question I need to go way back in time – to early July – and to a newly-revealed historical nugget. Here it is from Fox News:
The decision to let Hillary Clinton off the hook for mishandling classified information has roiled the FBI and Department of Justice, with one person closely involved in the year-long probe telling Fox News that career agents and attorneys on the case unanimously believed the Democrat presidential nominee should have been charged.
The source, who spoke to Fox News on the condition of anonymity, said FBI Director James Comey's dramatic 5 July announcement that he would not recommend to the Attorney General's office that the former Secretary of State be charged left members of the investigative team dismayed and disgusted.
More than 100 FBI agents and analysts worked around the clock with six attorneys from the DOJ's National Security Division, Counter Espionage Section, to investigate the case.
"No trial level attorney agreed, no agent working the case agreed, with the decision not to prosecute – it was a top-down decision," said the source, whose identity and role in the case has been verified by Fox News.
A high-ranking FBI official told Fox News that while it might not have been a unanimous decision, "It was unanimous that we all wanted her [Clinton's] security clearance yanked."
"It is safe to say the vast majority felt she should be prosecuted," the senior FBI official told Fox News. "We were floored while listening to the FBI briefing because Comey laid it all out, and then said but we are doing nothing, which made no sense to us."
Former US Attorney Joseph DiGenova is hearing the same thing:
I had a meeting today with a senior former FBI agent who told me this exact story. That people are starting to talk. They're calling their former friends outside the Bureau asking for help. We were asked, today, to provide legal representation for people inside the Bureau and we agreed to do so. And, to former agents who want to come forward to talk.
Comey thought this was going to go away. It is not. People inside the Bureau are furious. They are embarrassed. They feel they are being led by a hack. But, more than that, they think he's a crook. They think he's fundamentally dishonest. They have no confidence in him. The Bureau, inside, right now… is a mess.
This is the way things go in the federal bureaucracy these days. Civil servants don't resign in protest (they have bills to pay). They don't go to the IG with their complaints (they know the IGs have been neutered and that subsequent career retribution would be certain). No. They go to retired friends with their stories and, if they're really upset, leak anonymously to sympathetic media outlets.
Why is this particular leak significant? Because were were repeatedly assured by the White House, Department of Justice, and the FBI that decisions with regard to the possible prosecution of Hillary Clinton would be made by "career professionals." That wasn't true at all. It was made by an Obama appointee acting as a front for Mr Obama and his other, more obviously partisan, appointees. The career professionals were cut out of the loop.
I believe I can now piece together what happened:
– The fix was in – maybe always, but for sure since the Obamas-Clintons meeting on Martha's Vineyard in August 2015.
– Mrs Clinton is above the law. The only question was how to finesse the law.
– The FBI investigation yielded a wealth of evidence of felonious activity.
– But President Obama needs a Democrat successor in order to protect his legacy, most of which was put into place via easily-reversible executive orders.
– The Washington establishment – both parties – want Mrs Clinton elected President.
– FBI Director Comey was built up as a nonpartisan figure. Really he is a member in good standing of the establishment.
– Mr Comey decided on his own, or was privately induced by an intermediary (Democrat or Republican), that Donald Trump must be defeated.
– Comey then concocted a rationale for not prosecuting Hillary, evidence not withstanding. The obvious template was how Chief Justice Roberts saved Obamacare from otherwise certain destruction in 2012 (and paved the way for Mr Obama's re-election).
– Comey must have coordinated with Attorney General Lynch on his plan of action. He was, after all, invading her turf by making what was essentially a Main Justice prosecutorial decision when he was an investigative agency chief.
– Lynch would have had to coordinate with the White House, who coordinated with the Clintons.
– The infamous late June Bill Clinton-Loretta Lynch meeting at the airport in Phoenix – meant to be secret – may have been an expression of thanks from the Clintons to the Justice Department leadership.
– Then came the 4th of July weekend's softball FBI interview of Hillary with all its bizarre "accommodations" for the suspects. The whole purpose of the interview was to ensure nothing damaging to Mrs Clinton came out of it.
– Finally, after the sequence of events outlined above, came the surprise 5 July announcement by Director Comey letting Mrs Clinton off the hook.
To quote you-know-who, "At this point, what difference does it make?" If it weren't for this sweet deal, Mrs Clinton would have been forced to drop out of the presidential race. She would now be a defendant in the early stages of a criminal prosecution, or at a minimum deprived of her security clearance – a disqualifying matter for an aspiring President. The leftist media would be trying to drag some other Democrat across the finish line.
– Tacitus
Copyright 2016 Tacitus
www.vicsocotra.com