OK- the lights, decorations and the world's most bedraggled artificial tree have been nestled in the storage locker with care, and it is time to deal with the Bold New Year.
California got smacked again- earthquake near Berkeley and then an intense rainstorm that brought down some of the hillsides in the areas that had been burned in the massive fires of last month. So far, there have been fifteen fatalities from people who were overwhelmed in their homes.
The North Koreans- our most recent spats about nuclear-tipped rockets- are making nice at the moment and will dispatch a delegation to the upcoming Seoul Winter Olympics. things should be quiet until then….right?
The Dreamers and The Wall have everyone agog here in the Swamp, and we will run out of money to keep the Government open by the 19th. And while we all agree that "Continuing Resolutions (CRs)" are no way to run even a modest railway, I have every confidence the Congress will take the easy way out, even as the former leadership of the FBI will appear before the intelligence committees (among others) to testify about what exactly was going on in the DoJ and FBI.
And then there is the matter of that tell-all book about the Trump White House that had everyone quite mad, and appeared to mark the dramatic end of Mr. Steve Bannon's spectacular time on the national stage.
I swear- I was off the grid for a couple days at the farm last week and could not imagine how nice it was to be away from the ceaseless din and piles of dirty laundry. But here it is- second swamp postcard of the year, and for the first time in several weeks, the threat of thermonuclear devastation seems a little more remote. That is good, but the media is already calling for Oprah to run against The Donald in the 2020 cycle. Just when you thought things could not get any weirder…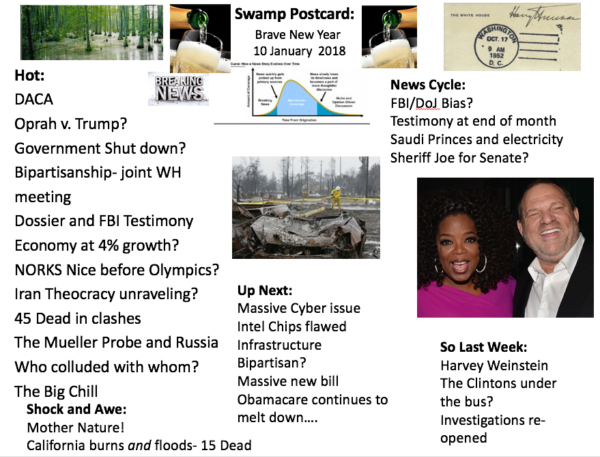 Copyright 2018 Vic Socotra
www.vicsocotra.com