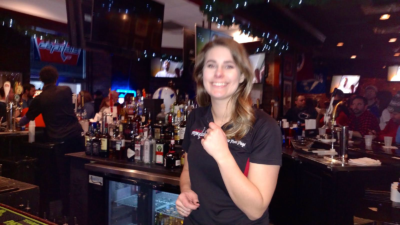 (Amanda, along with Brian, Laura, Jason, Sean, Arrian and Shea, kept us in good spirits for nearly two years).
I must say, our merry band of Refugees have conducted a remarkably successful campaign to destroy our favorite watering holes in the Ballston neighborhood of Arlington County. Any place we like gets shuttered muy pronto.
Our favorite was of course the Fabulous Willow restaurant, producing fine dining, great wine and spirits ably managed by owners Tracy O'Grady and Kate Jansen. We sat and pontificated for nearly a decade at the fabled Amen Corner. But in retrospect, we should have known that there were shadowy forces moving to kill off our hangouts.
First to go was Baileys, which anchored the mall and was the last place that permitted smoking inside in a special area that really wasn't that separate, and made the place smell like a real saloon. Then upscale Ted's Montana Grill vanished, having been a go-to place for business lunches. Then an Applebees briefly flickered on the wrong side of Glebe Road before quickly going dark. Car Pool closed after a long run, making way for another of those ubiquitous high-rise multi-purpose buildings the County is determined to place near the Metro stops. Work to remodel the World's Crappiest Mall commenced and Union Jack's and the Rock Bottom Brewery joined the list of the shuttered establishments.
It is enough to drive us to drink, not that we had to drive very far, but by then we should have seen that our last bastion was about to be stormed. The National Science Foundation moved out for new digs near Eisenhower Avenue in Alexandria a couple months ago. Building management of the high rise above the Front Page decided that the two years the mall across the street will be under construction would be a splendid time to rehab the high rise, and offered George a chance to pay double the rent to stay open for another five years. That amounted to nearly $50K a month, and it was just too much.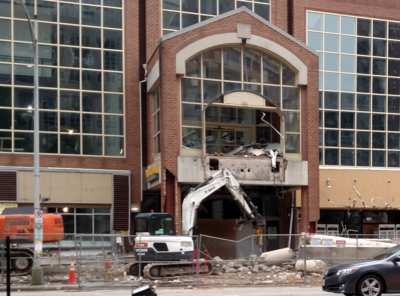 Brian was the one to break the bad news news to us, and that led directly to three last-ditch gatherings of the South Side Refugees. His last night was the 28th, and I vowed to come for a couple drinks on the official last night, which ended at 0200 this morning. The last time we closed a bar- really closed it- was nearly disastrous, as I slipped while trying a graceful dismount from the Willow's long bar, where I had addressed the merry but melancholy crowd. But still, I felt I wanted to stop by on the Last Day to say goodbye to the Front Page.
It wouldn't have been right for it to be uneventful. I parked on the street as it approached happy Hour, that special time of day when we would spend 5-7 PM each night. Nothing excessive, mind you, and there was a certain discipline in our festivities. Walking up the block to the bar, I noticed it was completely jammed. Football crowd, I thought, and there wasn't a free seat in the bar or anywhere else. I tended not to go on weekends, so it was a bit of a surprise to discover that the local Penn State alumni club gathered to watch their Nittany Lions on the gridiron, and this afternoon was the Fiesta Bowl.
The din was palpable- between the juke box and the general conversation and the sound from the flat screens that festoon the walls it was hard to hear yourself think. I got a rum and diet coke from Amanda, and tried to figure out how to survive.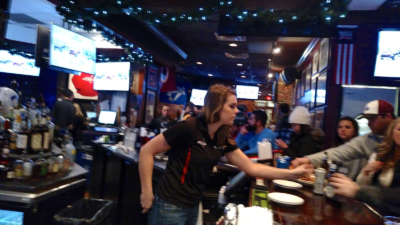 I am not so steady on my legs these days, and there literally was no place to sit down. I wobbled and thought of laving, but Jon-Without had indicated he would stop by for a symbolic last toddy, and was determined to at least hang on until he got there to say that I was going home where the drinks were cheaper and the flat screen bigger.
Amanda saved me- she had advance knowledge that one of the patrons sitting near our usual South Side corner was leaving, since she was processing his tab. I gingerly made my way around the bar in order to pounce on what was to be the only vacant seat in the house. I was a bit wobbly, but I perched myself nearly inside the guys comfort zone to be closest to the stool and secured the seat when he slowly, and with deliberation donned his coat against the fierce cold outside.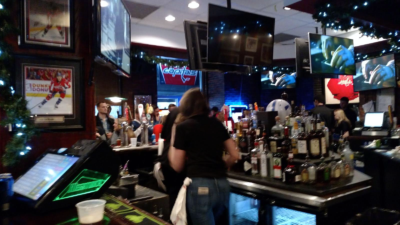 It was heaven to be seated amidst the chaos. I had no dog in the football fight, but had to support the Big Ten against the Huskies of Washington. The rum began to help me relax, and Jon-without arrived to stand next to where I was seated. We shared a couple beverages as the skies darkened and evening came to Ballston. I decided to take one of the Front Page Reuben sandwiches home for dinner, a last snack from a fine place.
Owner George Marinako was already leaning down the larder, and I had to be content with a styrofoam box filled with calamari. We agreed that there was nothing keeping us there any longer. It would probably only get crazier as the real Last Call loomed. I shouted out a farewell to Amanda, who kept a grin on her face despite the crush of people wanting more beer.
We shook hands on the FP's last night, wished those around us a happy new year, and went out in the cold. Jon was headed for some other place- there are only three bars left within walking distance for him, and one of them is a place that my younger son claimed gave dive bars a bad name. Oh well. We will sort out our options in the new year.
George has hired an auction house to get rid of the restaurant equipment and the art that decorates the walls. I think I will bid on something for old times sake, not that I have much wall space these days. The game was still going on when I got hime, and so far, the Big Ten is undefeated in all the bowl games they have played.
My Wolverines have the chance to screw that up tomorrow, but that is going to happen in some other year. And on the upside, I did not fall off a single bar this year.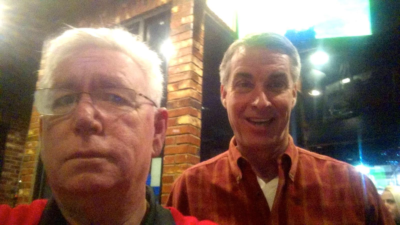 Copyright 2017 Vic Socotra
www.vicsocotra.com