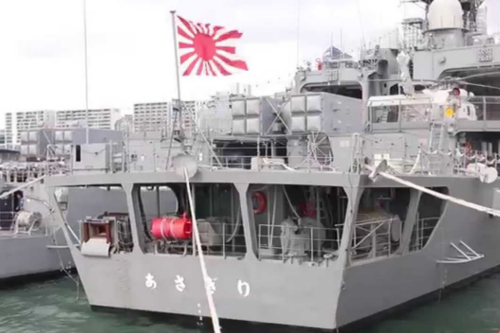 COMMENT: So, should Japan's Constitution be revised in order to remove the "legal doubt" about whether the Japan Self Defense Force (JSDF) should exist? I mean, is it such a big deal — either pro or con? In recent years, JSDF has become well-accepted and respected by most Japanese people due to its continued superb execution of domestic humanitarian assistence and disaster relief operations (remember the massive Joint Task Force mission following the 3-11/Fukushima mega-disaster.) However, my sense is that some Japanese are less comfortable with JSDF operating outside of the country, especially in situations/scenarios which could possibly involve fighting, killing — i.e., "combat." And, will changing JSDF's name & legal validity, crack-open a Pandora's Box that would inevitably lead to kinetic operations overseas and resultant bloodshed…? This, I suppose, is the "issue behind the issue" for the Japanese to face and decide.
– – – – –
== Japanese Prime Minister Shinzo Abe said Tuesday (21 NOV) that a proposed constitutional amendment to add a provision about the JSDF will not cause any change to JSDF duties or authority. "Only 20 pct of constitutional scholars declare without reservation that the JSDF is constitutional, and many textbooks say there is room for argument about the JSDF's constitutionality," Abe told a plenary session of the House of Councillors, the upper chamber of the Diet, the country's parliament. "It's irresponsible to tell JSDF members, 'You may be unconstitutional, but please risk your lives for the country if anything happens,'" said Abe, who advocates adding a provision to the war-renouncing Article 9 to recognize JSDF. Abe said it is a duty of his generation to eliminate any room for argument about the JSDF's constitutionality, Abe said in response to a question from Kohei Otsuka, president of the opposition Democratic Party. (Jiji Press)
– – – – –
== GSDF colonel recalls bullets flying over camp during South Sudan PKO
(November 17, 2017; Mainichi Shimbun)
Bullets flew over the Japan Ground Self-Defense Force (JGSDF) camp in South Sudan's capital Juba during clashes in July last year (2016), the former commanding officer of Japan's contingent in the U.N. peacekeeping mission there has told the Mainichi Shimbun.
Colonel Osamu Churiki, 49, chief of staff of the JGSDF Northern Army 11th Brigade based in Sapporo, headed the 10th JGSDF unit sent to South Sudan between May and December 2016. In his first exclusive media interview since his return to Japan in December last year, Churiki recalled the time when combat erupted between government forces and insurgents on July 8 through 11 last year in Juba, where the Japanese engineering unit was stationed.
According to Churiki and the unit's daily activity logs from that time, a small-scale clash occurred on the night of July 7, 2016, leading the JGSDF unit to cancel scheduled work at a U.N. facility the following morning, and forcing the Japanese troops to stand by in the encampment. While the fighting had initially erupted in a different area in the city, insurgent forces holed up in a building right next to the encampment.
On the morning of July 10, government forces began evacuating local residents, and a gun battle broke out at around 11 a.m. and lasted for a full two days.
"Although I can't elaborate on the details, it is true that some of the rifle and machine gun bullets passed over our camp," Churiki said. He also recounted hearing the sound of government tank shells exploding. Holes apparently made by stray bullets were also found in encampment structures. Upon Churiki's instructions, JGSDF troops put on bulletproof jackets and helmets and took shelter in a safer facility within the camp.
"We had conducted drills for contingencies both in Japan and South Sudan. Because it was not us who were being targeted, our unit members acted calmly," Churiki recalled. However, he also revealed, "I was wondering what I should tell the families of my unit members (if anything happened to them)."
None of the troops subsequently complained of psychological problems, nor did any of them have to be replaced before their scheduled return to Japan, according to Churiki.
Regarding the daily reports' references to "combat" to describe the July 2016 clashes, he said the term was used "under the general definition of the word."
Opposition parties grilled the government in the Diet over the term "combat" recorded in the logs, arguing that it ran counter to five preconditions for Japanese participation in peacekeeping operations, including a ceasefire agreement between warring parties.
However, "the term (combat) didn't carry a legal meaning," in that it did not refer to fighting between countries or equivalent organizations, Churiki said. "We needed to report accurate information to our senior officers, and we felt no sense of discomfort at the time," he continued, adding, "I have also checked the daily activity logs. Basically, I was responsible for them."
Looking back on the time in South Sudan, Churiki stated, "Local people were thankful for our activities. It was good that we went there." On Japan's involvement in future peacekeeping missions, he commented, "That's for the government to decide. I'm not in a position to answer that question."
LINK: https://mainichi.jp/english/articles/20171117/p2a/00m/0na/009000c
Commentary comment copyright Japan Gazer 2017
Body article copyright 2017 Mianichi Shimbun