Goodness, Gentle Readers, what a strange week!
I drove up to Greenfield, Mass, last Thursday afternoon to attend my brother's wedding. It was a joyful trip, meeting the new family with fabulous weather. My lovely cousins made it up to the event from Florida after perilous adventures in Air Transport, including de-planing a couple times from Spirit Air, an inflight loss of cabin pressure and an emergency recovery in Tennessee.
Not a relaxed weekend for them, but it sure was good to see them!
The two lovely women form bright lights in my life, and we shared some interesting shared genetic information- the weird crook in the little finger of our right hands, and the periodic shaking that afflicts us all. It had been a concern that I assumed was due to something diabolic about how I live my life. I now know at least of part my general laundry list of afflictions is just hereditary.
I would give you the blow-by-blow of the drive, with the George Washington Bridge in NYC occupying the middle, but that is too hard. I am convinced there is something inherently wrong with I-95, and moreover the villains who drive it regularly. If there are three lanes, some dumbshit will of course be in your blind spot, overtaking at reckless speed and then veering wildly in front of you to get back to the passing lane in order to threaten the driver a few cars ahead. Disconcerting is putting it mildly.
That used to be me doing the reprehensible. Instead, I found myself immersed in satellite radio, in the middle of the News Cycle with Mr. Scaramucci, General Kelly and the pesky NORKS shooting rockets and dominating the information stream.
I contrast the joy of a wedding and the birth of a relationship precious in life there on the banks of the glittering Connecticut River with what is going on here on the muddy Banks of the Potomac and just have to sigh. Can you believe this week that was?
Oh, as an aside, I bought the place where I currently reside at Big Pink on Monday. I could not confront moving again. At least I know now where one of the places where I could expire is. When is the other question. I will keep you posted on that.
– Vic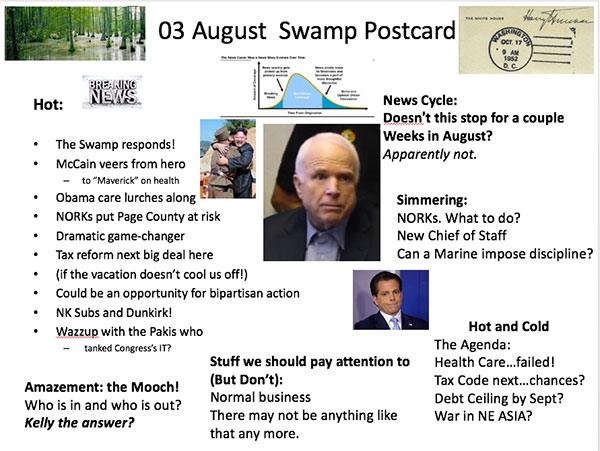 Copyright 2017 Vic Socotra
www.vicsocotra.com