Editor's Note: Yeah, I know this is basically recycled, but I am only now coming to grips with the idea that the decade of Willow is well and truly past. There was a sense of family there, and I will always miss it. I had an interesting chat on Monday with one of the major ringleaders at the Amen Corner in why that place was so special. From our seasoned analysis, it appears that, inevitably, entropy eventually overcomes joy.
But I still feel honored to have been part of this amazing experience. I hear we are going to be at Lyon Hall this Friday for a reunion of (some) of the survivors. I am going, with joy, though I know entropy wins in the end.
– Vic
No Night to Get Cute


(L-R: Lovely Jamie, and John-with with Jon-without; Senior Executive Jeff and Vic on the right.)
I am a little slow out of the gate this morning for a variety of reasons. Some of them are perfectly reasonable. Others not so much. I am free to say that no one crashed any cars and to the best of my knowledge no one was arrested.
Once I pried my eyes pen, I carefully reconstructed what happened last night, since it was the busiest I have ever seen it at Willow. Last Buffalo Night notwithstanding, the crush was four or five deep at the bar.
I was lucky I had my reserved sign at the apex of the Amen Corner or I never would have been able to stay and socialize as much as I did.
Brett the Bartender had the signature line of the evening, when a customer who had elbowed his way in next to me tried to get his attention: he asked a wandering question about which was the 'hoppiest of the craft brews on tap' and Brett just looked at him with a frown on his smoldering dark good looks and said; 'This is no night to get cute, Buddy."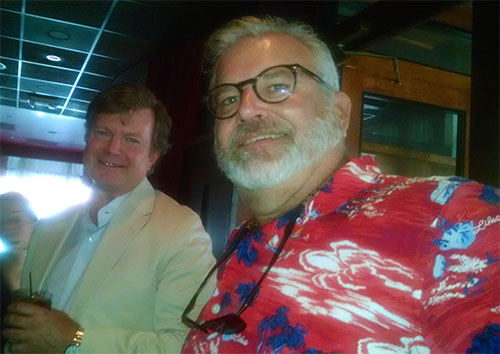 (K2 and the Master Chief)
And it wasn't. There was some speculation about whether Old Jim was going to come down, since he was only one of the regulars anyone really cares about- the rest of us are kind of interchangeable. I thought that he had said his farewell the night before. "If there is one thing he hates, it is being crowded. And this qualifies."
The Fish & Wildlife Service across Utah Street was out in force, packing the cocktail nook, and they are sincere enough that they apparently made Tracy an offer on the furniture to take to their new Headquarters down in Skyline.
It was that kind of night. In addition to the regulars* there were many ruin tourists seeking to get a last shot at the great food. The ladies next to me at the bar had the calamari and Brussels sprouts, rich with bacon bits, and the Smokey Saint Award Winning Burger. That is enough food for most families over a whole weekend, but what the hell. The world is ending.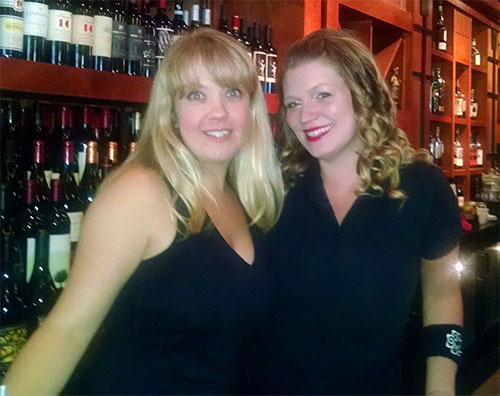 (Heather and Frankie)
Former bartenders showed up to work the crowd, testifying to the familial nature of the place. Briannasaurus Rex kept pressing her astonishing bosom into my arm, which was quite a treat for an old guy. Wonderful lady.
According to Brett, in a breathless moment as he pulled a couple deep brown draft beers from the taps (which have been sold already), he explained that Tracy had cooked five 25-pound roasts of beef, but it was going to be dicey about actually getting one due to the size of the crowd and the demand.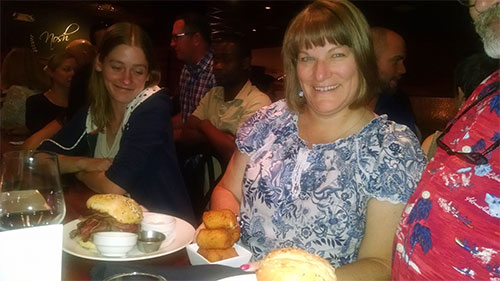 (One of the fabulous locally raised, hormone-free, slow cooked and thinly sliced beef on kemmelweck rolls sprinkled with sea salt and fennel placed in front of a lovely admirer as Liz-with -an-S looks on).
Accordingly, I ordered immediately and got two Beef-on-Weck sandwiches to go, only one of which actually contained beef due to an unfortunate spill on the way back to the car. Damn. I hate it when that happens. Normally, a BoW will last a weekend.
I am just happy that things worked out that night with no injuries. I know the general misgivings about social media in this group, but the pictures I snapped before oblivion loomed are up on Facebook.
Wild night. So, swim this morning, last one in this pool (major demolition starts in a week or two to replace pipes under the deck) and who knows how the hell that will turn out. Then watch some football with the LT before running him out to Dulles for a late afternoon flight to the Left Coast, return to Willow on the way back to say goodbye, and a last dip to seal the end of the season.
Tomorrow would have been equally busy, and equally drunk, since Margaret had planned the annual party to commemorate the end of the season, but it looks like it is going to be bleak and sober with some work to get ready for a football by-week that will have a curious gap in the hours between five and seven in the evening.
Oh well. As Jim observed with his trademark growl on Thursday night as he slid off his stool, "It is just another bar."
I don't often disagree with him, though I knew he was just insulating himself from the emotion.
No! This was a restaurant for the ages. It was family.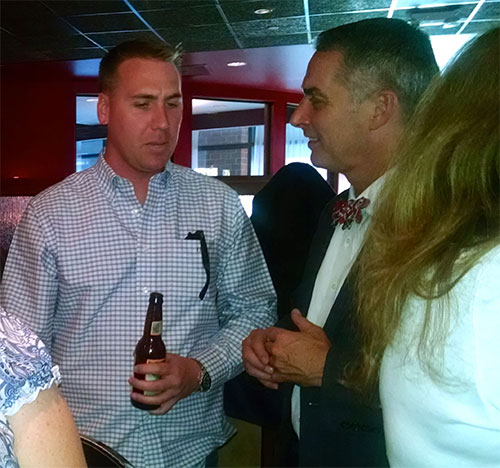 * The Regulars: Jon-without, John-with, Senior Executive Jeff, The Lovely Jamie, Jason, Joy, Barrister Jerry, the LT, K2, The Master Chief and his Lady, Liz-with-an-S, Chanteuse Mary, Biannasaurus Rex, Vic and a cast of thousands.
Behind the Bar: Big Jim, Frankie, Jasper, Brett, Heather and Marvin.
If I left anyone off, I apologize. It got awfully fuzzy after a while on the second-to-last night at the fabulous Willow. Jon-without just called to ask if I was going to wear black for mourning the final closing tonight.
Of course I said "Yes."
Copyright 2015 Vic Socotra
www.vicsocotra.com
Twitter: @jayare303