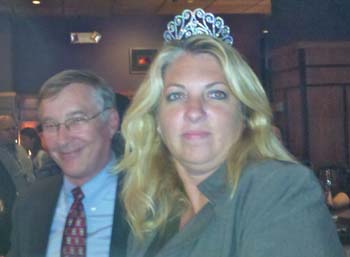 (Masters of Industry, with Tiara. Photo Socotra.)
I needed to take a break from the merriment, but it just wasn't in the cards, even though everyone was dragging a bit at the office yesterday due to the team-building cum birthday celebration at the bar Wednesday night.
A good time was had by all, from what I gathered, though my involvement was sundered by a cab ride down to Old Town, where my son and his navy buddies were enjoying some Alexandria liberty after an orientation of the agencies here in town with which they will interact while on active duty, and beyond.
It was raining that afternoon, of course, which made finding a cab back a bit of a challenge, but it went along with the theme of the week, which was drafting obituaries and observing the market collapse in Wall Street. I had bet on a decline and made a stock purchase immediately after the debt ceiling agreement had been signed.
I thought I was clever. The markets didn't agree with me, and I got clipped for 4% of the value of the trade in addition to the cost of making it. Fuck me. "Buy high, sell low," that's my motto.
Anyway, the sun was out as quitting time rolled around yesterday and I thought I might do something modest and get a good swim under my belt.
Captain Chris was sitting on the Willow's veranda as I walked up, and I greeted him with warmth. We have been trying to get together for weeks, and it appeared it was going to work. The Captain is an interesting guy. We went inside and sat at the Amen Corner where a few of the usual suspects were either conducting business or looking blankly into space.
"This is Captain Chris," I said.
"Hi, I am Jon-with-no-H," said Jon-with-no-H. He is easing into the whole work thing, and was enjoying one of Big Jim's hefty cocktails before rendezvousing with the Lovely Bea at P.F. Chang's later for a rack of Chinese fusion ribs. "I really have a craving for some ribs," he said with a shrug. I have to say, he has worked the George Hamilton tan thing to a fare-the-well, and they ought to just retire the trophy this summer and let him keep it.
"Jon-with-no-H lives across the street," I explained. "He is in the perfect nexus to triangulate The Front Page, Willow and P.F. Chang's."
"They all know me," said Jon without.
We shot the shit for a while. It turns out Captain Chris's son just graduated from the Merchant Marine Academy at King's Point, which my buddy Phil's did just a couple years ago. If you want to talk about dysfunctional government, that is a pretty good place to start, and we did.
"My son's education cost the taxpayers $380,000 and he is sitting home now waiting to see if he can find a billet on a merchant ship. It is crazy."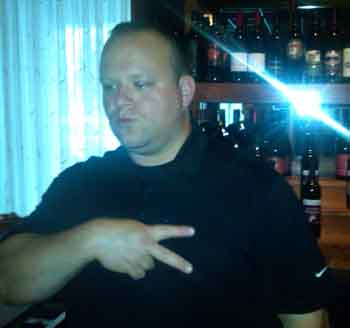 (Big Jim from Pittsburgh, Willow's master bartender. Photo Socotra.)
Captain Chris enjoyed a Coca-Cola "It isn't a twelve step program or anything," he said, to pre-empt speculation. "I just never enjoyed it even back in college."
Jon without nodded. "I have had an uneasy relationship with Demon Rum in my life."
"I just embrace it," I said, and took a hefty sip of happy Hour White. "But only wine when I am out on the town. Vodka at home, since it is the next to last stop on the Oblivion Express."
"What is the last one?" asked the Captain.
"We haven't got there yet," I said. "But if you are hungry, this is a great opportunity to check out Tracy O'Grady's Neighborhood Bar Menu. It gives you a cane to sample what Robert is putting out to the full dining room at a bargain price."
Big Jim dropped off a couple menus and I walked the Captain through the opportunities. He decided on the Salmon Kebab and I settled on the Polyface Farms deviled eggs with a side of hot sauce.
When the dishes arrived, we all were awed (as usual) with the presentation.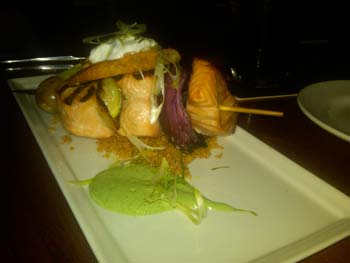 (Willow Salmon Kebab with herb garnish on a bed of roasted garlic coucous. Photo Socotra.)
Jon Without made his farewell to wander in the direction of Chang's as we ate. The lovely Pastry Queen Kate came in from the patio, looking cool and elegant, and I introduced her to the Captain. "Kate owns the place with Tracy," I explained. "She handles all the desserts, and has recently expanded into a retail trade between the bar and the dining room."
"It is very exciting," said the Pastry Queen. "We are doing cakes, cookies and cupcakes and will go from there."
"Would you show us what the latest is?" I asked. She nodded with a smile and we walked around the low wall that separates the frivolity of Big Jim's bar from the more stately elegance of the dining room.
"Tracy is thinking about doing a sort of bridge menu here in the lobby, with a more formal setting in the back," she said, gesturing at the private table in the alcove in the front and the tables along the backside of the wall. "And here is my bakery."
She and Tracy have replaced the old serving station from the original steakhouse days with an actual working pastry line behind a chest-high wall with a new dark granite top. The walls are adorned with shelves and object d'art to showcase the pastries. A fantasy lemon-zest white cake sat prominently in the middle of the counter, flanked by gift-wrapped cookies and a tray of vanilla and sinful dark cupcakes.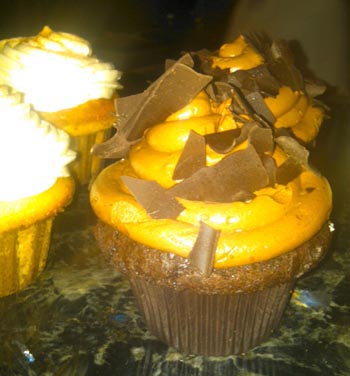 (Kate's cupcakes. Sinfully delicious. Photo Socotra.)
"You gotta try the cupcakes," I said. "They are not your mother's style, let me tell you. They are light as air and the icing…well, suffice it to say that I heard what happened to some of the icing when the gang was eating them at the bar the other night. Sinfully delicious."
Kate thanked us for our interest and the Captain and I retired back to the bar. I looked at my Happy Hour White with satisfaction, and we started to talk about how to deal with parents and dementia. He is just heading down the road the Socotras have been on for a while.
"Get the paperwork in order first, before it all starts to go south and you can't do a damn thing. We were lucky to get Raven's signature on a durable power-of-attorney about the last week he could sign his name in front of witnesses. You have to hope everyone cooperates. It is a hard thing. We waited too long."
The Captain nodded and told me about where his family was in the saga, and then he decided to try dessert. He glanced at the menu as we talked about family trusts and legal issues and decided on the Double Crunchy Walnut Brownie Sundae with vanilla bean ice cream, hot fudge sauce and drizzled with caramel.
It looked every bit as good as the cupcakes, but as you know, I have declared war on carbs. I took as much pleasure in watching it disappear though. The way Willow does things, looking at the food is nearly as good as consuming it. Sort of like getting your cake and eating it, too.
Which is something that doesn't happen often in Washington.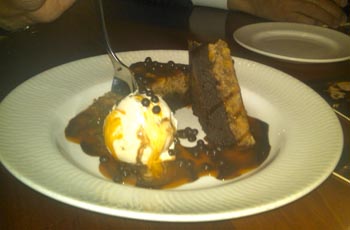 (Kate's astonishing brownies a la mode. Photo Socotra.)
Copyright 2011 Vic Socotra
www.vicsocotra.com