Kurt's father Bob, an old shipmate, edited and approved these words. I can add no more.
Vic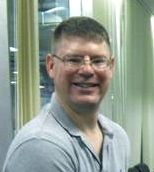 28 July 2011 CAPT (S) Kurt William JUENGLING, 46. Ashburn, VA
Kurt was born to a Navy family on July 9th, 1965. His parents, Bob and Anita Juengling, were a model Navy couple, and they raised a Great Navy Family. Kurt lived the life of a navy junior as he grew up, living in five countries, attending schools as Bob's duty station permitted- in Naples, Italy, among many others. He played football and ran track with intensity and passion, just as he did everything in his life. Kurt joined the Navy in 1983 and attended the Naval Academy Prep School in Newport, R.I.. He graduated from the Naval Academy in 1988. Upon commissioning he initially served as a surface warfare officer and participated in the First Gulf War. He transitioned to the Family Business—Naval Intelligence– in the mid-1990s serving at JICPAC.
As a citizen sailor, he rose through the former Reserve Area 14 to command NAVCENT 0267 and NOSC, Colorado Springs. His record of achievement earned his selection to Captain on the FY-12 promotion list. While in Iraq for a second tour, he was presented with the Bronze Star by then-Commanding General , GEN Ray Odierno, recently confirmed as Chief of Staff, U.S. Army.
Bob passed the following words this weekend that describe the indescribable: "Our wonderful son, Kurt took his own life Thursday, July 28.  He was being treated at Bethesda Naval Hospital for PTSD/TBI (post traumatic stress disorder/traumatic brain injury) following a roadside bomb blast last year in Iraq.  All the mental and physical therapy plus medication was not enough to erase the pain and memories. Prior to this tragic event, Kurt had a reserve command in Colorado Springs and was selected on the last 06 list."
An outpouring of sadness and condolences followed the news of Kurt's passing. ADM Bill Studeman commented: "I can only imagine the great pain this must cause your family, and our greatest possible sympathies and condolences go out to you, Anita, Jennifer and the kids. I am so sorry that circumstances conspired to produce this result, and we are all ever so much more mindful of how delicate the mind and body are as life instruments. I hope that understanding and peace will come with the passage of time…"
Kurt's shipmates echo the sorrow. Sam Palmer, a shipmate from NAVCENT 0267, wrote: "I have had no finer mentor in the Navy. Fair winds and following seas, Skipper." LT Dan Schumacher commented: "It was a pleasure meeting up with him in Baghdad during his second mobilization and at the end of my tour in 2009. The last time I saw him at the DFAC at the US Embassy while having lunch with CAPT Eileen Mackrell. He was truly one of the Navy's finest and I hope I can be half the leader that he was."
CDR Laurance Boyd was another colleague in Baghdad as well, noting that "Kurt and I worked together in Baghdad and I was struck by how easily he became part of the Embassy team. More than once, we spoke of issues regarding reconciliation among the feuding parties of Iraqis. Many of his comments were used in our analysis and to help the Iraqi government make policy that continues to impact the people of that country today. He was a fine officer, a superb leader, and a good friend."
In addition to his grieving parents Bob and Anita, Kurt is survived by his wife Jennifer, daughter Elizabeth (16) and son Robert (11).
CAPT (S) Kurt Juengling, a combat casualty, will be buried at Arlington National Cemetery. His untimely passing highlights the struggles our returning veterans confront, and the passion with which those of us who are left behind must support our wounded warriors. Details of the interment are undetermined but will be promulgated as they become available.
Fair winds, and following seas, Kurt.
Vic Socotra